OLYMPICS
TODAY's EVENTS:
BATHTUB WRESTLING: UJI & IZZY
CAT TREE GYMNASTICS: QUILL
CRITTER STALKING: MONA & WEENIE
TONGUE CURLING, THE RASPBERRY: MONA & WEENIE
Listed as "Ongoing":
BALANCE BEAM: CORY & COMPANY
HIGH JUMP: PENELOPE & KOZMO
RED DOT-A-THON: PURRCHANCE TO DREAM
SYNCHRONIZED SNOOZING: ISLAND CATS
TEAM LOUNGING: DAISY MAE & CHARMEE
Schedule Graciously stolen from
Sarge's blog
...BOL!
HEALTH: GLAUCOMA
Taken from The Glaucoma Foundation
August 2012 E-newsletter
Did You Know That Dogs Get Glaucoma?
Not only do they get glaucoma, it is a leading cause of blindness in dogs. There are two forms, primary and secondary. The primary type is hereditary, breed specific, and is not caused by other diseases. Primary glaucoma occurs in many breeds of dogs, including the American Cocker Spaniel, Basset Hound, Chow Chow, Shar Pei, Jack Russell Terrier, Shih Tzu, and Arctic Circle breeds (including the Siberian Husky and Elkhound). Primary glaucoma is rare in cats.
It usually starts in one eye, but ultimately both eyes are affected. It occurs 3 times more frequently in female dogs and most commonly between the ages of 5 and 10 years. The key to having the best chance of preserving vision is early detection, excellent owner compliance in treating the eye(s) daily as prescribed, and regular ophthalmic examinations.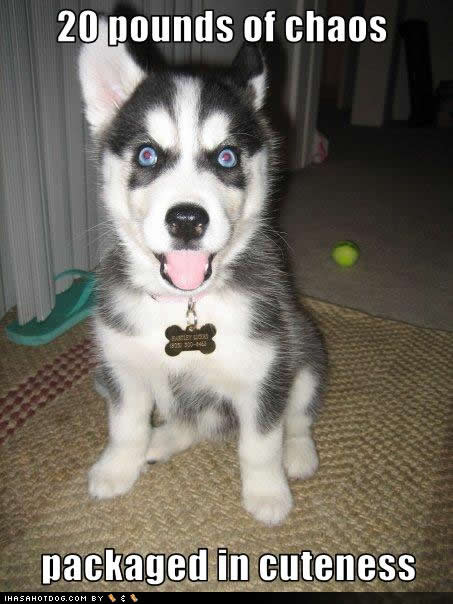 NATIONAL EAT AT CHICKFILA DAY!